Office Hours
Sunday
Closed
Monday - Friday

9:00 AM

-

6:00 PM

Saturday

9:00 AM

-

3:00 PM
Access Hours
Sunday - Saturday

6:00 AM

-

10:00 PM
| Size | Unit Details | Price | |
| --- | --- | --- | --- |
| | $1 Move in Special - 1st month | | |
| | $1 Move in Special - 1st month | | |
| | | | |
| | $1 Move in Special - 1st month | | |
| | | | |
| | | | |
| | | | |
| | $1 Move in Special - 1st month | | |
| | $1 Move in Special - 1st month | | |
| | $1 Move in Special - 1st month | | |
| | $1 Move in Special - 1st month | | |
| | $1 Move in Special - 1st month | | |
| | $1 Move in Special - 1st month | | |
| | $1 Move in Special - 1st month | | |
| | | | |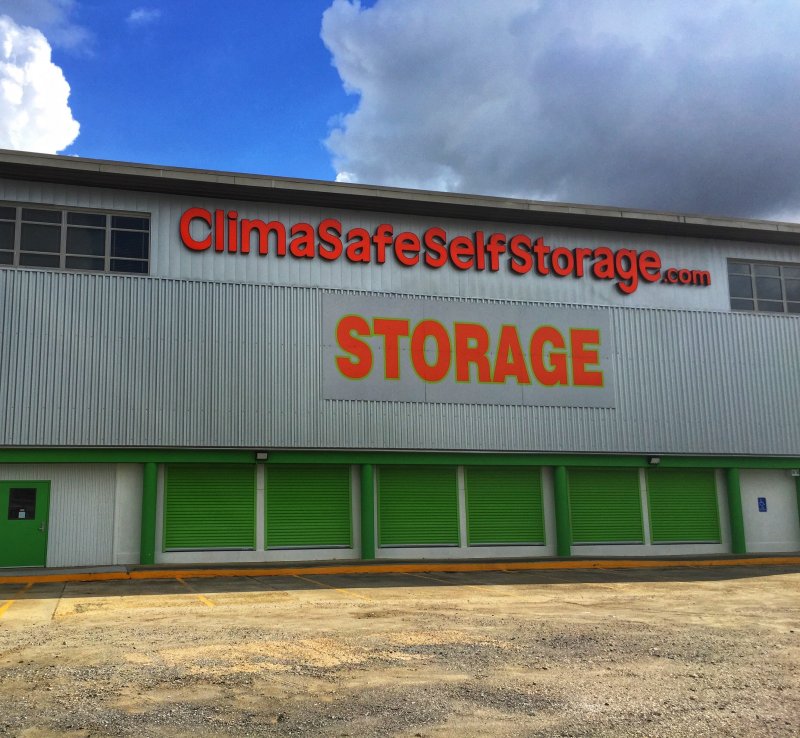 Self Storage Units in New Orleans, LA
At ClimaSafe Self Storage, it's our job to make sure your storage needs are met. We've created a secure and clean environment equipped with all of the valuable features and amenities you need to have a stress-free storage experience.
Rent a temperature-controlled storage unit and keep your temperature-sensitive belongings cool in the summer months and warm in the winter months. Store electronics, paperwork, business equipment, upholstered furniture, household appliances and other items that may be at harm due to intense temperature.
ClimaSafe Self Storage Features & Amenities
Wide Variety of Sizes

Coded Gate Entry

24-Hour Video Monitoring

Large Outdoor Parking Areas

Lift Access & Ramp

Complimentary Dollies/Carts

Month-To-Month Rentals, No Obligations
Contact us to learn about our truck rentals, deals, and storage supplies. Stop by during business hours if you would like to take a complimentary tour of the facility. You won't find a better storage facility in New Orleans!
Check Out What Our Customers Are Saying
"
"
Fox Mcraccoon
on 01/05/2021
New Orleans location, rented today The woman working there was knowledgeable and hospitable. Great experience in getting a storage unit. Will recommend, just wish I could remember her name and mention who it was.
"
"
Jim Fleitas
on 11/16/2020
The customer service representative was very friendly and professional. He answered all of our questions and took all the time we needed to look at a couple of units. He was very helpful in helping us pick the best unit for our needs. The facility was extremely clean and well maintained. Security is excellent. We definitely made the best decision in selecting this facility.
"
"
Lony Mcroyal
on 11/06/2020
Strong minded young lady at the front desk helped me with no hesitation. Even though the people ahead of me were there to pick up a truck they were so rude and disrespectful to her and not once did she change her tone or stop being a good person to them. As she was showing me the unit she mentioned every single thing I needed to know. She made sure I was comfortable with the unit and made me feel welcomed. I even had to ask her as a business owner and former customer service rep myself , why she was still being kind and helpful to those people even after the made it clear to just be blatantly rude to her. Her exact words and I quote "I can't stop being a good person because of bad people. It shows more about their character than what it will ever show about mines". I LOVE THE STAFF HERE!!!! Love my unit. Love the mindset. Left this storage place feeling good about my things and with a new quote lol
Temperature-Controlled Storage Units & More!
ClimaSafe Self Storage is conveniently located next to I-10 and I-610, only a few miles from downtown New Orleans, LA. Not only are we perfectly located to serve nearby residents and businesses, but we're also a short drive from Dillard University and The University of New Orleans, so college students in need of extra space during the semester can always rely on us as an affordable storage solution.
Our self storage property is near St Claude, just a few minutes from St. Roch Market. Whether you live in Gentilly, St, Roch, St Claude, Gentilly Woods, Marigny or Bywater, we are a convenient solution for your storage needs.
Find us near Dorsey Auto Brokers, A-1 Auto Sales & Repair, Vic's Auto Glass, Culture Park NOLA, just a few blocks from Lowe's Home Improvement. We would love to show you around the facility when you're ready. Stop by today during normal business hours.
Take Common St to Tulane Ave

Head north on Carondelet St toward Union St

Turn left onto Common St

Take I-10 E, Exit 237 and Florida Ave to Franklin Ave

Continue onto Tulane Ave

Use the right lane to take the Interstate 10 E ramp to Slidell

Merge onto I-10 E

Take exit 237 for Elysian Fields Ave

Use the right lane to turn left onto Elysian Fields Ave

Slight right

Turn right onto Florida Ave

Turn right onto Painters St

Turn left onto N Dorgenois St

Turn left at the 1st cross street onto Franklin Ave

ClimaSafe Self Storage will be on the right
From St. Claude, New Orleans, LA:
Head east on N Robertson St toward Desire St

Turn left at the 1st cross street onto Desire St

Turn left at the 1st cross street onto N Claiborne Ave

Turn right onto Franklin Ave

ClimaSafe Self Storage will be on the right
From Gentilly, New Orleans, LA:
Follow Elysian Fields Ave to Benefit St

Head west on Filmore Ave toward Elysian Fields Ave

Turn left at B connect Enterprise Private Limited onto Elysian Fields Ave

Get on I-610 E

Turn left onto Benefit St

Take the Interstate 610 E ramp on the left

Take Exit 4 to Franklin Ave

Merge onto I-610 E

Take exit 4 for Franklin Ave

Turn right onto Franklin Ave

Make a U-turn at Abundance St

ClimaSafe Self Storage will be on the right
From Desire Area, New Orleans, LA:
Head east on Higgins Blvd toward Louisa St

Turn left onto Almonaster Ave

Turn right onto N Rocheblave St

Turn right at the 3rd cross street onto Franklin Ave

ClimaSafe Self Storage will be on the right